Snapshots of Edinburgh Festival taxi passengers for exhibition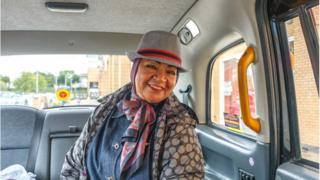 An Edinburgh taxi driver has created an exhibition and book from pictures he has taken of passengers in his cab.
Ryan Walls took pictures of 101 passengers during the Edinburgh Festival in 2015.
The 42-year-old said only two people refused out of the 103 people he asked due to being in a hurry and having a bad hair day.
Now the father-of-three's pictures will go on display at Out of the Blue Drill Hall, Dalmeny Street, in August.
Mr Walls told the BBC Scotland news website how he took photographs of a hen party, stag do, football fans, a chef, a high court judge and a TV agony aunt from Kuwait.
He said: "Everyone was so nice. One of the pictures is of a passenger who was in such a hurry that he couldn't wait for another taxi when I discovered the central locking system was broken so I had to pull him in and out of the taxi window.
"I also had an elderly former English teacher who had suddenly decided she wanted to go out to a show at the festival at the last minute and she had lots of words of encouragement for me so I really enjoyed chatting with her.
"I also got a Jambo fan and was worried I wasn't going to get a Hibs fan but luckily I did.
"I'm really interested in people and wanted to capture that moment in my cab, I only had seconds to take a few pictures and I'm really pleased with the end result."
The exhibition runs from 31 July until 5 August.