Lamb loses ear in sheep-worrying attack by dog in Pentland Hills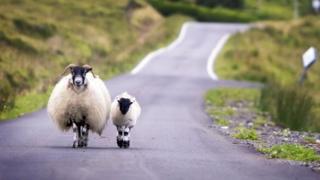 A lamb has lost an ear following a sheep-worrying attack by a dog in the Pentland Hills in Edinburgh.
The incident happened at about 15:25 on Saturday at a farm near the Kirkgate area of Currie.
Police Scotland, who believe the tan-coloured dog could be a spaniel, have appealed for witnesses.
PC Alistair Murdoch said: "Sheep worrying is completely avoidable. Dog walkers need to ensure their animals are kept on leads around livestock."
He added: "All dogs, whatever their usual temperament, are capable of chasing livestock. This behaviour can have severe or even fatal consequences for these animals as well as both an emotional and financial impact on the farmer.
"We're urging anyone who may have information about this incident, or who saw a dog matching this description and being walked by a woman in the area, to contact us.
"We're still working to establish the full circumstances surrounding this and if the owner sees this appeal I'd ask them to get in touch with us as soon as possible to help with our ongoing inquiries."