Passenger dies as Edinburgh bus avoids collision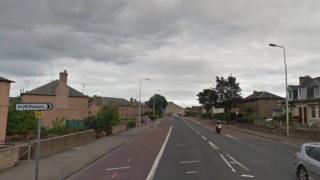 An 86-year-old bus passenger has died after the vehicle's driver braked sharply to avoid a car.
The woman was on a number 35 bus on Edinburgh's Stenhouse Road when the incident happened at about 13:15 on Friday. She died the next day.
Two other passengers, an 86-year-old man and a woman in her 30s, were injured.
Police officers are trying to trace a white Audi which they believe was either a Q3 or Q5 model.
The bus had been travelling towards the city centre and was opposite Edinburgh prison.
Police want to speak to any witnesses who have not yet come forward.
Sgt Fraser Wood said: "Sadly a woman has died as a result of the evasive action the bus driver had to take to avoid the car.
"We would like to trace the driver of the car and any witnesses to the incident on Friday."