Father of missing man charged over search house incident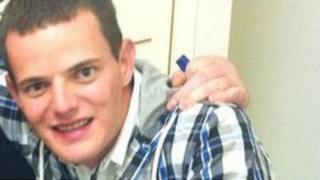 The father of a man missing for three years has been charged over an incident at a Fife home police are searching in connection with his son's disappearance.
Allan Bryant, 23, went missing after a night out at Styx nightclub in his home town of Glenrothes on 3 November 2013.
On Monday, Allan Bryant Snr was charged with breach of the peace.
Police are searching a house in Barnton Place, Glenrothes. His parents believe he has been murdered.
A Police Scotland spokeswoman said: "Police in Glenrothes have charged a 51-year-old man in connection with a breach of the peace that happened in Barnton Place, Glenrothes.
"The incident happened on Monday 26 June.
"He will appear in court at a later date."