Terrapins found dumped on Musselburgh street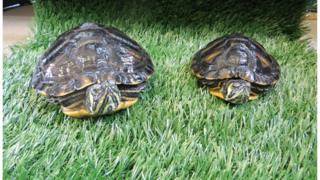 Two terrapins have been found dumped on an East Lothian street.
They were found on South Street in Musselburgh at about 10:30 on Saturday.
They are now being looked after by the Scottish SPCA, which said abandoning an animal is an offence under the Animal Health and Welfare (Scotland) Act 2006.
The animal charity said the pets were found in the street without a tank, food or water. It urged witnesses to come forward. Terrapins can live up to 30 years.
John Toule, of the Scottish SPCA, said: "Not only was it irresponsible of someone to abandon these animals, it was also an offence.
"People are often fooled into thinking that terrapins are easy to look after and don't fully consider the time and commitment required to care for them.
"They can live for over 30 years so the decision to take one on shouldn't be made lightly.
"However, they can make excellent pets for exotics enthusiasts and we always have lots of terrapins, many of which have been abandoned, looking for suitable new homes.
"If anyone noticed any suspicious activity or has any information we urge you to get in touch."