Man jailed for pregnant women attacks in Edinburgh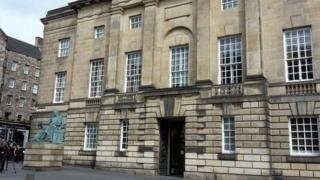 An Edinburgh man who put an unborn baby's life at risk during a series of attacks on pregnant women has been jailed for six years.
Robert Eadie, 28, assaulted three mothers-to-be during a catalogue of violence against five different women over a 14-year period.
Eadie will be kept under supervision for a further two years.
He was given a 10 year non-harassment order prohibiting him contacting his victims other than through a lawyer.
Heavily pregnant
Eadie kicked one heavily pregnant woman full force on the stomach and jumped on her abdomen after she fell to the floor before throttling her.
The 25-year-old mother-of-three told the High Court in Edinburgh: "He kicked me on my stomach. He kicked it and jumped on it. He just didn't care."
Eadie was earlier convicted of assaulting the woman to the danger of her life and that of her unborn child during the attack at a house in the Clermiston area of Edinburgh in November 2008.
He was also found guilty of further assaults on the same woman at houses in the city. During one incident in February 2010 Eadie told her to get out of a flat in Clermiston.
The woman said: "He grabbed me by the throat. My brother tried to intervene. He grabbed him by the throat."
She said she told him she needed to get her shoes from a bedroom and she and her brother sat on the bed but Eadie came in with a knife. She said: "He threw the knife at us. It flew just over our heads."
Threw knives
Advocate depute Keith O'Mahoney asked her if he said anything after it. She replied Eadie said: "I am going to get more knives."
She said Eadie left the room but returned with three or four more knives. "He threw them. Three of them missed us. They went over our heads. The last one he threw, it hit the wall and bounced back and hit me on the neck."
She said she was struck with the point of the blade and was bleeding following the assault. The woman described Eadie as "violent" and "controlling".
Eadie attacked a second pregnant woman in September 2013 and shouted and swore at her at the Westsider bar, in Wester Hailes, grabbed hold of her neck and pushed her against a wall.
The following year he twice assaulted a third pregnant woman in the Broomhouse area of Edinburgh and repeatedly punched her on the body.
Eadie had denied a string of charges during an earlier trial but was convicted of 10 assaults against women. He was acquitted of holding a woman upside down from a window and threatening to drop her and inciting a dog to attack her.
Eadie said that at the time he was taking cannabis and valium regularly, but denied that he took his temper out on women if he could not get drugs.
Mr Murray said: "Alcohol and drug misuse are clearly factors in the offending behaviour."
But the defence counsel said Eadie has sought help with anger management problems in Edinburgh's Saughton prison.