Trustees fail to force wall rebuild at Edinburgh Academical Club pitch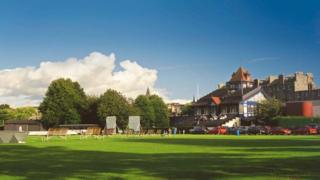 The trustees of an Edinburgh cricket ground have failed to win a legal order forcing councillors to rebuild a wall.
Grange Trust wanted a judge to rule that Edinburgh Council should rebuild a barrier at the boundary of an Edinburgh Academical Club pitch.
The trustees argued Edinburgh City Council broke an agreement made between them, the Accies and the council just before the outbreak of World War One.
The cost to rebuilding the wall is more than £185,000.
The Court of Session heard how the Grange Trust was constituted in 1882 to hold property for a number of sporting clubs in the Scottish capital including Edinburgh Academical Cricket Club.
Land deal
The court was told that in 1912, the then Lord Provost, magistrates and City of Edinburgh Council wished to widen Comely Bank Road at Edinburgh Accies' ground.
It entered into negotiations with the Grange Trust and Edinburgh Accies.
In return for giving the council six feet of land from the ground which was used to widen the road, the council agreed with the Grange Trust and the Accies to build a boundary wall and maintain it "in all time coming".
The court also heard that in recent years the boundary wall was "taken down" by the council.
This prompted the Grange Trust trustees - Kirsten Kernaghan, Douglas Brown, Christopher Warner and Stephen Davey - to go to the Court of Session.
Lawyers acting for the trust asked judge Lord Boyd to either order the reconstruction of the wall or award £185,569.20 - the cost of rebuilding it.
However, Lord Boyd ruled the action had to fail because Edinburgh Accies had no involvement in the action.
The judge said Edinburgh Accies were party to the 1912 agreement, therefore the club needed to be involved in the action alongside the Grange Trust in order for it to succeed.