Addiewell prison officers treated after Spice drug exposure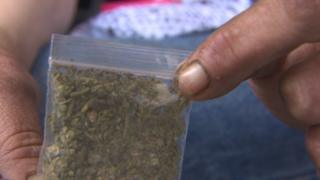 Two prison officers have been treated in hospital after inhaling second-hand smoke from the Spice drug in a West Lothian prison.
The Scottish Prison Service (SPS) said three officers were taken to hospital after the incident at HMP Addiewell on Saturday.
The drug is reported to be a growing problem in prisons across the UK.
Spice is a term for a range of new psychoactive substances which the UK government banned in May 2016.
Until then they were known as "legal highs" and available to buy in High Street "head shops".
They are designed to mimic the effects of cannabis, but affect the brain differently - and can have severe debilitating effects.
Steve Farrell, from the the Community trade union which represents members at HMP Addiewell, said two officers had fallen "seriously ill", but were now recovering and in a stable condition.
He told BBC Radio's Good Morning Scotland programme: "It's been reported to us for a couple of months from the staff and from our members in Addiewell that the illegal highs and Spice in particular is causing some real concern."
Mr Farrell said the issue had been highlighted to union officials more in HMP Addiewell than any other Scottish prison in recent months.
He added: "I've been in the prison service a long time. We started with cannabis, it then led to heroin and no unfortunately we're onto things like Spice.
"This in particular is probably more unknown in terms of the affects and medical affects than other class A drugs such as heroin and cocaine."
Ambulance called
Addiewell opened in 2008 and houses all types of inmates except women and convicted young offenders.
According to the SPS, Addiewell is designed as a "learning" prison, where offenders can address their behaviour and the circumstances which led to their imprisonment.
A spokesman for the SPS said: "We can confirm three staff were taken unwell while on duty on Saturday and taken to hospital by ambulance.
"We work closely with the police and NHS to tackle drugs, which are a challenge across the whole prison estate."
A Scottish government spokesman said: "We are aware of this incident and the matter is under investigation by the Scottish Prison Service (SPS).
"Drug taking in prisons is a very serious issue and we will continue to work with the SPS, and its contractors, to ensure all prison staff are fully supported.
"Drug taking in the adult population is falling with drug-taking levels among young people remaining low."