Army apologise for explosions at Edinburgh's Dreghorn Barracks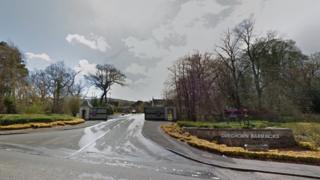 The Army has apologised after a series of loud explosions at its barracks in the south of Edinburgh.
The "very loud bangs" were heard across the capital at about 08:15.
Residents speculated on social media that the explosions could be fireworks, thunder, TNT - or even "artillery fire".
The Army later confirmed on Twitter that soldiers at the Dreghorn barracks were being given demolition training.
A spokesperson tweeted: "Sincere apologies to everyone in #Edinburgh for the bangs this morning. Soldiers in #Dreghorn barracks were doing demolitions training."
After one Twitter user pointed out that "Advance warning might be nice, given recent events", the Army in Scotland account responded: "Indeed. Many apologies."
Earlier, one Edinburgh resident tweeted: "I'm directly opposite the barracks. Felt it in my chest. No idea what that was but more than fireworks...."