Edinburgh International Festival closes with huge fireworks display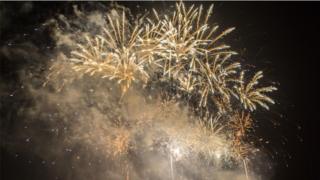 The Edinburgh International Festival and the Edinburgh Fringe have drawn to a close with the annual fireworks display.
More than 250,000 spectators watched the spectacular where 400,000 fireworks were set off from Edinburgh Castle choreographed to live music from the Scottish Chamber Orchestra.
The Virgin Money Fireworks Concert saw Capercaille's Karen Matheson perform.
Virgin Money will continue as headline sponsor for the next three years.
Andrew Nicolson, brand director at Virgin Money, said: "This annual spectacular brings a fitting finale to an amazing 70th anniversary International Festival in the world's greatest festival city."
Gavin Reid, Scottish Chamber Orchestra chief executive said: "Many congratulations to the International Festival on their hugely successful 70th Anniversary year, and our thanks to the wonderful Karen Matheson for joining the Scottish Chamber Orchestra on stage."
Fergus Linehan, Edinburgh International Festival director, said: "We are delighted that Virgin Money has decided to continue this valuable partnership with the International Festival and the Scottish Chamber Orchestra.
"The Virgin Money Fireworks Concert is one of the most spectacular events in Edinburgh's calendar and is beloved by Edinburgh's residents and visitors alike."