Man admits illegal sale of burial plots at Mount Vernon Cemetery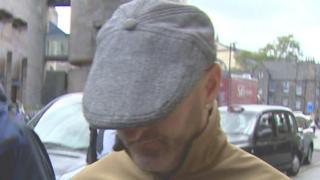 A former superintendent at an Edinburgh cemetery has admitted illegally selling burial plots to bereaved families.
William Henderson, 46, pleaded guilty at Edinburgh Sheriff Court to one charge of fraud relating to his time at Mount Vernon Cemetery between 2006 and 2015.
The Catholic church which runs the cemetery has apologised to the families affected.
Henderson was bailed until sentencing on 29 September.
Henderson's fraud offence affected 13 people.
The Catholic Archdiocese of St Andrews and Edinburgh called in police in 2015.
It is the city's only Catholic cemetery.
Sheriff Donald Corke told Henderson: "This is clearly a very serious matter and you should be aware that although all options are available to the court custody is the most likely outcome."
Dr Elspeth Atkinson, chief operating officer of the Archdiocese of St Andrews and Edinburgh, said: "There are two victims of Willie Henderson's criminal behaviour, The Archdiocese of St Andrews and Edinburgh which has been defrauded of thousands of pounds but, much more significantly and disturbingly, is the impact on those families who were exploited by him at a time when they were grieving and vulnerable.
"That's why his crimes are so shocking.
"The Archdiocese deeply regrets the criminal activities of Willie Henderson and has been working hard over the past months to offer both pastoral and practical support to those families affected by his actions and we will, of course, continue to do so in the months to come."
Det Ch Insp Paul Grainger, of Police Scotland, said: "It was a very complex inquiry and as we investigated further we uncovered widespread criminality and malpractice at the cemetery."
Henderson was employed at Mount Vernon Cemetery from 1997 until 2015.
He became acting superintendent of the cemetery in October 2012 and was confirmed in that post in March 2014.
During the time, Mount Vernon Cemetery operated at arms length from central administration of the Archdiocese with responsibility for its management being largely entrusted to the on-site cemetery superintendent.
On 22 January 2015, the Archdiocese received a complaint from an undertaker over an alleged fraudulent burial deed.
The next day, Willie Henderson agreed to go on leave while the complaint was investigated by the Archdiocese.
Henderson was formally suspended by the Archdiocese on 17 April 2015 and tendered his resignation on 1 May 2015.
In November 2016, Willie Henderson was arrested by Police Scotland and charged with fraud.
Henderson sold forged burial deeds for cash-in-hand which then went undeclared to his employers.
Usually this would involve identifying and selling spare, unutilised ground in the cemetery such as access paths.
The price charged by Henderson for each varied.
Two cases, however, involve what is known as an "over-burial" where families were sold plots by Henderson believing them to be new lair when, in fact, they already had deceased people buried in the unmarked grave.
All the families affected by Henderson's crimes were given a personal letter from Archbishop Leo Cushley expressing his sympathy and solidarity followed by an invitation to contact the Archdiocese in order to receive both practical and pastoral support.