Pedestrians embark on 'once in lifetime' walk over Queensferry Crossing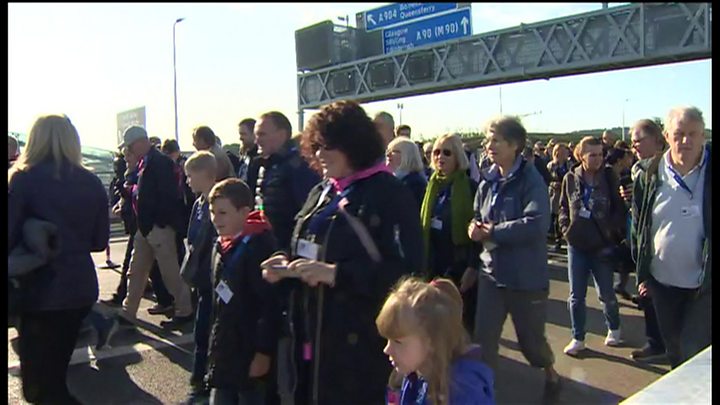 The first of more than 50,000 people have completed their walk across the new Queensferry Crossing.
The new road bridge over the Forth was closed to traffic in preparation for the official opening ceremony on Monday.
The chance to walk the £1.35bn bridge has been described as a "once in a lifetime" experience. The new crossing has no pedestrian walkway.
The ballot to choose those taking part attracted 250,000 entries.
Joining the successful ticket holders on the 1.7 mile walk was First Minister Nicola Sturgeon and Scotland's Transport Minister Humza Yousaf.
The official opening will be carried out by the Queen.
One of the first to cross from north to south was 16-year-old Morgan Lewis-Wilson, one of three generations of his family from East Lothian who were taking part in the experience.
He said: "I ran the second half and I was one of the first people to finish north to south. It was a really amazing atmosphere coming in first with the saltire over my shoulders. It was just brilliant."
'Quite emotional'
Shauna Killen, 45, from Anstruther, Fife, who was taking part with her family, said: "It was absolutely fantastic, I got quite emotional coming across it. It was wonderful and I'm really pleased to have done it.
"I applied for the kids really; it was just so amazing to watch it being built over the last few years and just to be a part of it today was a once-in-a-lifetime experience so hopefully they will remember it for a long time."
Cilla and Graham Ferguson, from Dalgety Bay, Fife, dressed up as Toy Story's Woody and Jessie for the occasion to raise awareness for brittle bone disease, which their granddaughter suffers from.
Mrs Ferguson, 66, said: "What an achievement, what a once-in-a-lifetime, awesome thing to do."
Also raising awareness for the disease were Wilma Lawrie, 57, from Edinburgh, and Yvonne Grant, 56, from Dundee, who both crossed in wheelchairs as part of a four-person team fundraising for the Brittle Bone Society.
"It's a great privilege and honour to be walking or wheeling for the 5,000 members here in the UK," Ms Grant said.
Speaking ahead of the walk, Ms Sturgeon said: "It's only right that the public get the chance of an up close and personal look at this amazing structure so they can see the stunning engineering and views for themselves.
"Walking across the new Queensferry Crossing will be a once in a lifetime experience, before it is officially opened to traffic and pedestrian access continues on the Forth Road Bridge."
'Closes to pedestrians'
The crossing is essentially an extension of the M90 motorway across the Forth with a 70mph speed limit, although operators said an initial 40mph limit would be in place to take account of "driver distraction".
The new bridge will take most of the traffic that currently uses the 53-year-old Forth Road Bridge.
The old one will remain open for cyclists, pedestrians and buses.
Mr Yousaf added: "It's important to recognise the efforts of those workers who have delivered this project in challenging conditions, £245m under budget.
"That is a staggering achievement and we want to build on the momentum that these celebrations will create."
Local schools and community groups will be allowed to walk over the structure on Tuesday before it closes to pedestrians.
The crossing will remain closed to traffic until Thursday, with vehicles re-directed back to the Forth Road Bridge during this time.