Minister pledges help over baby coffin mystery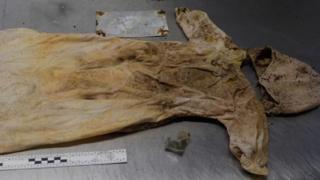 A mother trying to find out what happened to her dead baby's body has been promised help by Scotland's public health minister.
Lydia Reid's son Gary died at seven days old in Edinburgh's Hospital for Sick Children in July 1975.
The 68-year-old discovered his coffin was empty after it was exhumed following a court order.
Minister Aileen Campbell said a police investigation must take its course but she promised to help find answers.
Earlier this month a BBC investigation revealed that a leading forensic scientist had found a shawl, a hat, a cross and a name tag in the burial plot at Saughton Cemetery in Edinburgh, as well as the disintegrated coffin.
But there were no skeletal remains and or evidence of decomposition, suggesting the baby's body was never placed in the coffin.
Ms Reid suspects her son's organs may have been retained for medical research without her permission, a practice she says was widespread at the time.
Police Scotland said detectives were trying to establish if any criminality had occurred but the investigation is at an early stage.
Both NHS Lothian and Scotmid Funerals have said they are giving their full co-operation.
Public Health Minister Aileen Campbell agreed to meet Ms Reid at Holyrood.
Afterwards she said: "We can work with Lydia, at an appropriate time, to see what we can do as a government to help her.
"It's very delicate, it's very sensitive, we want to make sure Police Scotland get the opportunity to do what they have to do around locating where Gary may be or what has happened to give Lydia the peace of mind she so desperately needs."
Ms Reid said the minister was upset during the meeting.
She said: "It's quite a sad story. I think I'm probably hardened to the fact these things happen but for a young minister to have to listen to the whole story is quite heartbreaking.
"I think I have a long fight ahead. I've got to look through every museum to find out if he's in there and get more information on what research projects were carried out around about the time my son died."