Serbian political activist elected as St Andrews rector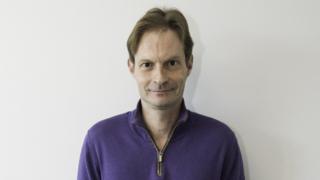 Students at the University of St Andrews have elected Serbian political activist Srdja Popovic as their 53rd rector.
Mr Popovic, who previously had no links to St Andrews, ran for rector after being approached by a student.
Jamie Rodney, who is in third year, was inspired by Mr Popovic's book Blueprint For Revolution.
Mr Popovic is a former Nobel Peace Prize nominee who founded the student protest movement Otpor!
The group played a pivotal role in the overthrow of Serbian dictator Slobodan Milosevic in 2000.
Mr Popovic is a founding member of the Centre for Applied Non-Violent Action and Strategies (Canvas), a not for profit organisation (NGO) which has trained pro-democracy activists in more than 50 countries including Iran, Palestine and Egypt.
He is an advocate of non-violent protest which utilises people power and humour - "laughtivism" as Mr Popovic calls it.
The former Belgrade student defeated his opponent, MSP and Scottish Liberal Democrat leader Willie Rennie, gaining more than double the votes.
---
What is a Rector?
The position of rector exists at Scotland's oldest universities and is elected by the student body every three years.
At St Andrews, the rector is the President of the University Court and presides over meetings which make crucial decisions about everything from budget allocations to academic policies.
Former St Andrews rectors include Rudyard Kipling and J M Barrie.
---
The factor which ultimately convinced Mr Popovic to stand was the discovery that John Cleese formerly held the role. "I've loved Monty Python all of my life," he said, "and their absurd humour is something that inspired my own creative protest tactics."
According to its new rector, St Andrews is a bastion of the establishment. "If a group of engaged students is able to create social action here, then it is possible anywhere," he said.
Mr Popovic, who teaches a course at Harvard University's Kennedy School entitled "Leading Movements for Social Progress", aims to empower students in St Andrews to mobilise themselves.
"One of the goals of our work should be building a student movement as a platform for broader social change," he said. "Only engaged people can bring the change, whether large or small."
He added: "To quote another famous St Andrews affiliate, Benjamin Franklin 'There are three kinds of people in this world. Those unmovable, those movable and those who move.' St Andrews was always a great source of world movers and shakers. Natural place for building a movement, isn't it?"
The defeated Mr Rennie congratulated Mr Popovic on his victory, saying he will be an "inspirational role model for students".
"I am sure the university's students have made a wise choice and it is a choice that is fitting for a university with such an outstanding global reputation," he said.
'Students for students'
Mr Popovic said he was "inspired" by the capacity of St Andrews students after visiting the town, with more than 50 of them actively engaged in his campaign.
He has already helped them to apply Canvas' training to their unique corner of Fife, creating a "students for students" movement.
Those involved drafted a manifesto which Mr Popovic signed. It includes policies such as lobbying for the university to build more affordable accommodation and campaigning for the construction of a rail link to the town.
Mr Rodney, who studies English at St Andrews, hopes Mr Popovic will teach students to be more politically active, but insists that they will work constructively with the university.
"I think there is immense human potential in St Andrews and [Mr Popovic's] skills at activism training could help us harness it so we become a leader in student power and participation in the same way we are in academics," he said.
Mr Popovic replaces MEP Catherine Stihler as rector, who took up the post in 2014.
---
Otpor! and the overthrow of Slobodan Milosevic
Slobodan Milosevic was the president of Serbia from 1990 until 1997, then president of Yugoslavia until his overthrow in 2000. He has often been referred to as the "butcher of the Balkans".
He was tried at The Hague on charges of war crimes and genocide over his involvement in the Yugoslav Wars, in which Croatia, Slovenia and Bosnia were attacked by Serbia. However, his death in 2006 meant the trial was never concluded.
Otpor! (which is the Serbian word for resistance) was founded by Mr Popovic and his friends in 1998 to protest Milosevic's government. Such protests culminated in the so-called Bulldozer Revolution of October 2000.
When an opposition coalition led by Vojislav Kostunica won a majority in the elections of 24 September, President Milosevic refused to accept defeat and claimed the election was invalid.
Rallied by opposition leaders, mass protests and strikes broke out with unhappy Serbs flooding Belgrade on 5 October in huge demonstrations.
When Milosevic failed to comply to a deadline, protestors stormed the Yugoslav parliament and state TV headquarters, setting them on fire.
By the next day, Milosevic had conceded defeat and Kostunica was declared president.