Lecturer dies six months after cycling crash in Spain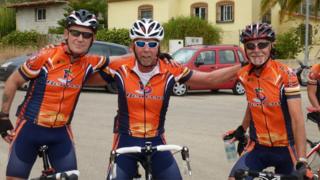 A West Lothian lecturer who broke his neck following a bike crash in Spain six months ago has died.
John Telfer, from East Calder, was left fighting for his life after the accident on the road to Pedreguer from Alcalali on 4 May.
He was flown back to Scotland with a spinal injury which caused him to be paralysed from the neck, after £25,000 was raised through crowd funding.
His family said they were "proud of his character, determination and attitude".
Mr Telfer's funeral will be held in Livingston on Friday.
He had been out cycling when another cyclist hit a raised tree root in the road causing him to fall off into Mr Telfer's path.
Mr Telfer was unable to avoid him and was thrown from his bike, going over the handlebars, and landing in such a way which caused his neck to be broken in two cervical areas.
In a post on Facebook confirming his father's death, his son Gregg Telfer, said: "It was my father's choice to not accept further ventilation due to complications and although the last six months have been the most testing that any family should have to go through, we are still grateful and proud of his character, determination and attitude from sustaining the initial injuries, through attempted recovery periods, until his passing.
"My dad has been taken from us in a horrible manner, but he was injured doing something he loved.
"This is the only comfort I can take from the situation, along with knowing he is no longer in pain and suffering, but at peace with other lost family members."