Viking age gravestone to be moved after 200 years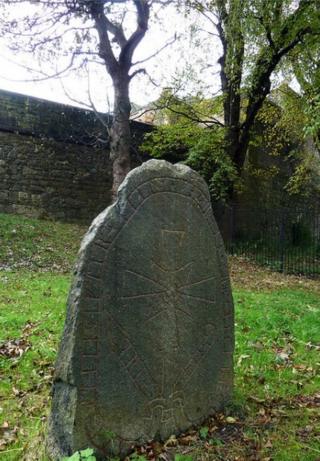 A Viking age gravestone is to be moved from its home in one of the most inaccessible corners of Edinburgh's Princes Street Gardens after more than 200 years.
The Swedish Runestone is to be relocated to the city's George Square outside the school of Scandinavian studies.
The 11th Century stone is one of just three of its kind in the UK.
The stone has been in Edinburgh since 1787.
It was donated to the Society of Antiquaries of Scotland by one of its earliest members, Sir Alexander Seton.
Originally located on the Royal Mile, it was later donated to the Princes Street Gardens' proprietors to ensure it was given a more prominent position overlooking the park, below the castle esplanade.
In recent years, access has been prevented due to the stands built for the Tattoo.
Donald Wilson, Edinburgh City Council's culture and communities convenor, said: "I had never heard of the Swedish Runestone until the relocation proposals came up and I would imagine that would be the same for most people in the city, even though it has been in the gardens since the early 19th Century.
"It will now be in a much more prominent and accessible position. It's a significant historic relic with an astonishing story - it just shows you that this historic, ancient city never ceases to amaze."