Inquiry ordered into St John's Hospital A&E waiting times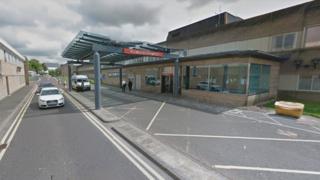 Health Secretary Shona Robison has ordered an independent review into how waiting times are recorded at St John's Hospital in Livingston.
Concerns about the hospital's A&E department were raised by a whistleblower in October.
Following an immediate NHS Lothian investigation, ordered by Ms Robison, "areas of concern" were found.
NHS Lothian said it was "encouraged" that staff had felt able to raise concerns about the hospital.
Ms Robison has now asked the Scottish Academy of Medical Royal Colleges to carry out an external review.
NHS Lothian said staff at the A&E unit had been applying "locally produced guidelines" for recording patients who have to wait for more than four hours.
These local practices did not comply with national guidance.
'Serious allegations'
The internal investigation report said: "Local procedures were drafted with the best of intentions of clarifying to staff when a patient has, or has not, breached the four-hour access target."
According to NHS Lothian, this meant some patients who may have been recorded as breaching the waiting time performance target, were not included in departmental performance reports.
The independent inquiry will be led by Prof Derek Bell.
The health secretary said: "These are serious allegations and the early findings are clearly a cause for concern.
"That is why I have asked Prof Bell to lead an independent review of these allegations.
"We are working very closely with the board to ensure that lessons are learned from the investigation and recommendations made are fully implemented as soon as possible and shared across NHS Scotland."
NHS Lothian has promised to fully cooperate with the independent inquiry.
'Clear assurances'
Deputy Chief Executive Jim Crombie said: "We actively encourage our staff in NHS Lothian to highlight issues relating to patient safety and we take any allegations of misconduct or wrongdoing very seriously.
"We have a robust whistleblowing policy in place to ensure that all our staff are supported and feel able to raise any concerns and I am encouraged that staff are able to discuss them.
"As soon as we received these concerns, an internal audit team was appointed, headed by a senior non-executive director to oversee the investigation and get to the bottom of the concerns."
Lothian MSP and Scottish Conservatives health spokesman Miles Briggs said: "The concerns about how A&E waiting times are recorded at St John's are extremely serious and alarming and therefore it is right that the Scottish government has ordered an independent inquiry into the allegations.
"I hope that this independent review will be completed as thoroughly as possible and also without delay. If the review recommends that changes are needed in the system at St John's then these must also be implemented immediately and NHS Lothian and Scottish ministers need to ensure this takes place.
"West Lothian residents will be looking for very clear reassurances that the current system of recording A&E waiting times at the local hospital so many of them rely on has not been designed to minimise or mask excessive waits that break the Scottish government's four-hour target."
Scottish Labour's health spokesman Anas Sarwar said: "These are deeply troubling findings that will concern patients across NHS Lothian and beyond.
"It is absolutely right that they are independently investigated. But the reality is SNP mismanagement has left NHS staff across Scotland over-worked, under-valued and under-resourced."