Edinburgh used for 'killer drone' film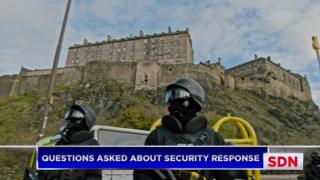 Edinburgh's Old Town has become the backdrop for a cautionary tale warning against the deadly potential of drones.
The city was used to film a dystopian vision of the near future, where tiny aircraft carrying explosives are used to wipe out dissent.
The film, Slaughterbots, was screened at a United Nations summit in Geneva last week by the lobby group Campaign To Stop Killer Robots.
It has so far attracted more than half a million hits on YouTube.
In the nine-minute film, an American student studying in Edinburgh becomes the target of killer drones during a university lecture.
'American audience'
They are deployed by an unknown group after featuring at a Silicon Valley-type tech launch event.
Armed police are also seen being deployed on empty streets in front of Edinburgh Castle, the Cowgate and Calton Road.
The group behind the film said it was made in response to concerns about autonomous weapons, which they said had the potential to become cheap and easily available.
Matthew Nelson, head of production at Space Digital, which shot the film, said making Edinburgh their location was an "obvious choice".
He said: "Edinburgh is a great looking city and the castle is iconic, so it suited us very well.
"We needed streets that would be empty on a Sunday morning for the shots that showed armed police.
"We also needed somewhere that would be recognisable to an American audience and Edinburgh is known as a film friendly city so it was an obvious choice really."
The video was launched in Geneva, where AI researcher Stuart Russell presented it to the United Nations Convention on Conventional Weapons.