Meadowbank to close its doors for the last time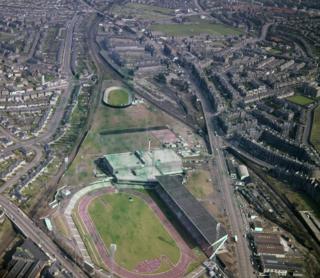 Edinburgh's Meadowbank Stadium closes its doors this weekend for the last time.
After almost 50 years it will be knocked down to make way for a new state-of-the-art sports centre.
Meadowbank was built for the 1970 Commonwealth Games and has been used by various clubs and sporting celebrities over the decades.
The venue will be replaced with a new £41.1m sports centre which is due to open in Easter 2020.
The new centre will be partly funded by residential and commercial development on parts of the existing site.
Ian Campbell, vice convener of culture and communities for City of Edinburgh Council, said: "It is the end of an era for Meadowbank and the start of a major redevelopment to support physical activity, health and wellbeing in Edinburgh.
"The old Meadowbank has been at the heart of sport in Edinburgh for almost half a century.
"It has been used by millions over the decades and I am sure that many people from all around the world who have passed through its doors will treasure memories of great sporting moments created within its walls.
"I am delighted, however, that we can now look forward to bringing ours plans to life to create a new sporting great to be used by people in Edinburgh and beyond for generations to come."
June Peebles, chief executive of Edinburgh Leisure, said: "It is with mixed emotions that we say goodbye to Meadowbank - a venue that has served Edinburgh well since it's opening in 1970.
"It will be strange closing the doors on a building that, for so long, has played a central role in developing and supporting participation in a variety of sports and physical activity. So many sporting memories for so many people.
"However, the prospect of a new Meadowbank in 2020 does counteract our sadness.
"The new venue will undoubtedly pick up where the old Meadowbank left off, it will provide countless opportunities for generations to come to participate in physical activity and sport."