Man to return ancient crown to Turkey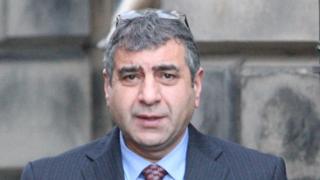 A man involved in a legal wrangle with police and the Turkish government over an ancient golden crown has agreed to return the artefact to Turkey.
Murat Aksakalli claimed he inherited the item, which has been valued at £250,000, from his grandfather.
The wreath, thought to have been sealed in a tomb in 350BC, was seized in 2010 by Police Scotland when Mr Aksakalli tried to sell it to undercover police.
Parties settled before proceedings at the Court of Session in Edinburgh.
It means the Turkish government will take possession of the crown.
No criminal proceedings
Officers believed the Crown, which is currently being held by Police Scotland at its Edinburgh headquarters, was stolen from a heritage site in Turkey.
After the then Lord Advocate Frank Mulholland decided in 2012 that no criminal proceedings should be brought against Mr Aksakalli, he ordered that the item be returned to its owner.
However, both the Turkish government and the businessman claimed ownership prompting the parties to take the matter to Scotland's highest civil court.
At a hearing in December 2016, the court heard lawyers acting for Police Scotland said agents for Mr Aksakalli had asserted it was a family heirloom.
However, the court also heard the Turkish government had examined photos of the crown and they had concluded it had been taken from a site in their country.
Steven Jansch, for the Turkish authorities, told judge Lady Stacey the matter had been "ongoing for sometime" and that the origins of the item were in dispute.
Mr Aksakalli said the item had belonged to his family.
In the court action, it was said that it was transported to the Turkish embassy in London in 2013 in order that it could be taken to Turkey for forensic examination.
However, it was returned to Police Scotland a week later.
Lady Stacey adjourned the case and the substantive hearing was scheduled to take place before judge Lady Carmichael.
However, the matter was settled ahead of the court hearing.