Beaters to help catch escaped buffalo bull in Fife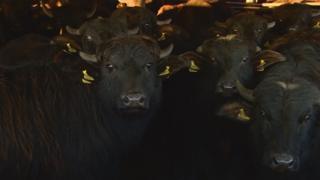 Beaters from a local shoot are being brought in to flush out an escaped buffalo which is hiding in a 100 acre wood in Fife.
The 400kg bull, which jumped a gate during a routine weighing, disappeared on Saturday from Clentrie Farm in Auchterool near Kirkcaldy.
The one-year-old is now in an area near Shawsmill farm, Lochgelly.
Some placid buffalo will also be brought to the area in a bid to lure out the young "frightened" animal.
Steve Mitchell, 35, owner of The Buffalo Farm where the animal escaped from, said the animal would be scared of people and unlikely to pose any threat.
He told the BBC Scotland news website: "Buffalo are herd animals so it needs to be back with other buffalo. It is frightened and would run in the opposite direction if it saw anyone.
"We have been leaving silage out but it hasn't touched it but there is plenty of grass for it to eat.
"It's not natural for buffalo to be on their own or they get alarmed.
"It's a baby and it's lost. So we will take some older buffalo down to the area on Thursday to coax it out and then we will walk them all home."