Baby thrown in air had multiple injuries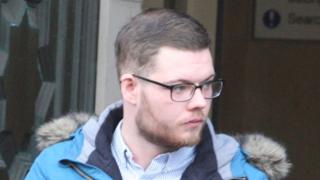 A man has admitted repeatedly and recklessly throwing a two-month-old baby in the air, causing him to suffer multiple rib and leg injuries.
Liam Simpson, 22, from Edinburgh, pleaded not guilty to assaulting the same child to his severe injury and to the danger of his life.
This plea was accepted by the Crown.
The High Court in Edinburgh heard that X -rays carried out on the boy showed that he had a number of painful injuries.
Simpson, who has a learning disability, was arrested after the boy fell ill and was taken to hospital.
'Witnesses concerned'
The court heard that doctors concluded that the injuries could only have been caused by someone throwing him in the air.
Police launched an investigation and found evidence to prove that people had seen Simpson carrying out the activity.
Simpson admitted to a charge of culpably and recklessly throwing the baby in the air at various locations in Scotland between December 28 2016 and March 17 2017.
Prosecutors also accepted a plea of not guilty to a charge which alleged that on 8 December 2014, Simpson repeatedly inflicted blunt force trauma to a four-week old child at a house in Edinburgh.
Prosecution lawyer Kath Harper told the court that witnesses were concerned by the way he threw the child into the air.
After the boy fell ill, he was found to have multiple rib fractures and injuries to his tibia and femur.
'Caused the child pain'
Ms Harper said: "In these circumstances the fact that the baby had been thrown into the air and grabbed on the descent could explain the rib fractures.
"The fractures were caused by pressure or compression. Some of the fractures were positioned at the back where the baby would be held in such circumstances.
"Because of the number and age of the fractures the baby would have been thrown and caught on more than one occasion.
"The rib fractures would have caused the child pain and the child would not have been able to breath normally while the fractures were healing."
The court heard that Simpson had no previous convictions.
Defence advocate Bert Kerrigan QC said: ""As a consequence of the Crown accepting a plea of guilty to a charge of culpable and reckless conduct, the Crown accepts that there was no criminal intent to assault the child.
"The accused accepts there was culpable and reckless conduct on his part."
Lord Woolman granted Simpson bail ahead of sentencing in February and asked for reports to be prepared.