Edinburgh children's hospital hit by further delays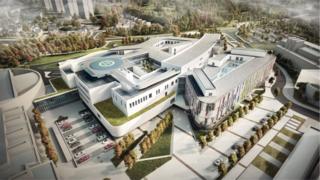 NHS Lothian has said there will be a further delay in opening Edinburgh's new children's hospital.
The Royal Hospital for Sick Children was originally scheduled to open in July of this year.
That date has been pushed back twice, with a new completion date of May 2018 announced in August.
A further update has been issued by NHS Lothian, blaming factors including bad weather, and saying the "aim" was to open the hospital in autumn 2018.
NHS Lothian deputy chief executive Jim Crombie said: "We established a contract with IHSL Limited in 2015 to build our world class children's hospital and it was due to be completed in July 2017.
"Unfortunately we have suffered unexpected initial delays on site, which included the liquidation of a crucial sub-contractor, severe weather and issues surrounding piling works.
"We remain committed to delivering this flagship facility in a timely manner and to the highest of standards. We are working with the contractors to open the hospital as soon as possible and aim for moves to take place by autumn 2018."
The new Royal Hospital for Sick Children in Edinburgh is a £150m project to replace facilities for children at Sciennes near the centre of Edinburgh, and at the Western General Hospital and Royal Edinburgh Hospital, with a purpose-built complex at Little France to the south of the city.