Scottish film studio wins formal backing from Scottish government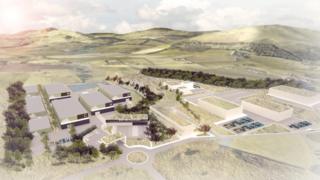 Planning permission for Scotland's first purpose-built film and TV studio in Midlothian has been formally granted by Scottish ministers.
Pentland Studios will be built at Straiton, near Edinburgh.
It is understood the studio could be operational by the end of next year.
The studio, which will feature six huge sound stages, will be built on about 100 acres of greenbelt land at Old Pentland Farm. It is said up to 1,600 jobs could be created by the project.
It will be built in phases and will eventually also feature two backlots, a hotel, visitor centre, film academy, energy centre, workshops and a creative industries hub as well as the film and TV studio.
'Major milestone'
Jim O'Donnell, director of development for developer PSL, said: "We are extremely pleased to have reached this major milestone in the studio complex's journey, after a considerable period of time and work to date.
"We particularly want to thank those who have supported the project throughout the past three years, and we look forward to reaching the next milestone as soon as possible."
A Scottish government spokeswoman said: "Ministers welcome the potential for significant socio-economic benefits on a local and national scale through job creation and economic development.
"The Scottish government is committed to seizing the opportunities available in film and television by significantly increasing investment and streamlining public sector support.
"We have marked our intention to support the screen sector with a doubling of investment to £20m next year for development, production and growth and share the sector's ambition to see the creation of additional film and TV infrastructure to support continued growth in production spend."