HMS Prince of Wales leaves Rosyth dock for first time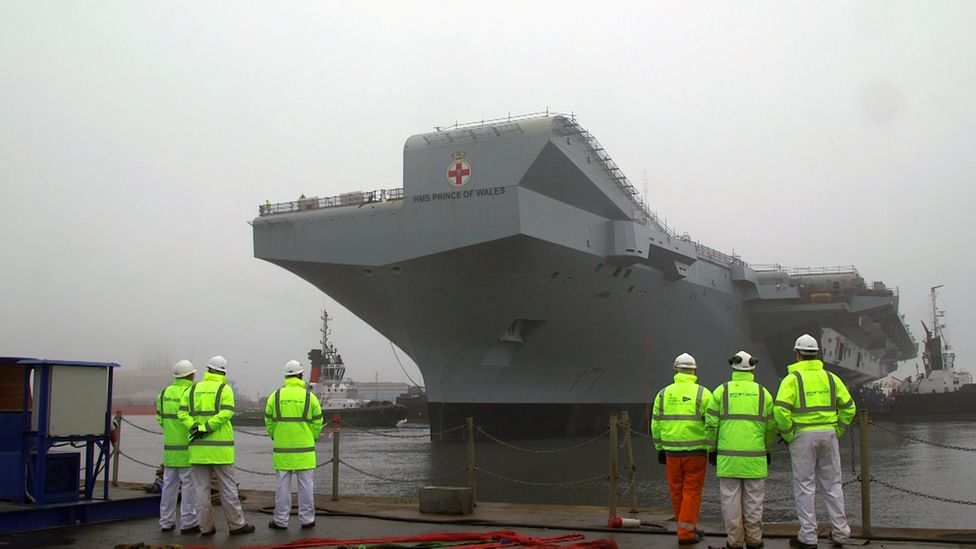 Britain's newest aircraft carrier has taken a step closer to sea trials.
HMS Prince of Wales has been floated and moved to her fitting-out berth at Rosyth docks.
The 65,000-tonne warship and sister to the recently commissioned HMS Queen Elizabeth was moved in a delicate overnight operation.
She was floated out to the neighbouring basin where her next milestone will be the first running up of the generators before sea trials in the summer.
The dry dock was specially enlarged for the HMS Queen Elizabeth and has been the second carrier's home for the past three years.
Minister for Defence Procurement Harriett Baldwin said: "This is an important moment in the monumental programme to build these two magnificent ships.
"I would like to thank the 10,000 people from across the UK who have helped us make such progress during 2017 on both HMS Queen Elizabeth and HMS Prince of Wales."
Crew and engineers from the Aircraft Carrier Alliance monitored the process throughout, while a flotilla of tugs moved the sea giant the short distance to her new berth.
"For me, seeing water surround the ship has really made it transform from being a ship in-build to a ship preparing to go to sea," said Sub Lt Freddie Spreckley, who has just joined the ship as a marine engineer after completing his professional training at HMS Sultan in Gosport.
"I was privileged to be one of the last few people to walk underneath the ship before the sluices opened and flooded the dock.
" It was very exciting - a once-in-a-lifetime opportunity - to be involved with this engineering milestone in the ship's life and historic moment for the Royal Navy."
Cpt Ian Groom, the carrier's Senior Naval Officer, said that the effort made by teams from industry, the Ministry of Defence and the ship's company to reach this point had been "immense".
He continued: "It has been a massive team effort and I am proud of every individual contribution.
"As the second of her class, HMS Prince of Wales is of strategic significance ensuring continuous carrier strike capability. Working as one team we are delivering an unmistakable sign of commitment to the defence of our great nation and that of our allies."
Prince of Wales is 3,000 tonnes heavier than her sister was at the same stage - as the second ship in the class, construction and fitting out has moved more swiftly thanks to the lessons learned building HMS Queen Elizabeth.
The next construction stage - the first running up of the generators and gas turbines, bringing the ship to life - is earmarked for the middle of 2018, followed by sea trials in 2019.
Related Internet Links
The BBC is not responsible for the content of external sites.