Edinburgh boy gets bionic hand for Christmas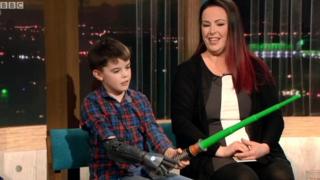 An Edinburgh boy has told how "fireworks were going off" in his head when he was told he would get a bionic hand in time for Christmas.
Cameron Millar who was born without his right hand, said he had dreamed of having the £10,000 prosthetic for a long time.
The 10-year-old's mother, Mags Millar, managed to crowdfund for the hand, which is 3d-printed.
Now Cameron will be able to open his presents on Monday "a lot easier".
Cameron told BBC Scotland: "There was fireworks going off in my head when I heard. It's so cool.
"I can now pick up a water bottle and pour it into a glass and I can peel oranges without needing to rest it on the table.
"I used to find it difficult playing the drums, I was only able to use one drumstick and Lego was hard.
"But now I can pick up really small things and not drop them, I love it."
He added: "I'm going to keep it beside my bed on Christmas Eve night so I can put it on as soon as I wake up."
'It's been amazing'
Mrs Millar said: "The look on his face was incredible, when they opened the box and he saw it for the first time, it was amazing.
"Before Cameron used to manage doing things with just one hand. He's grown up and adapted to doing things like that but he's wanted this hand for a long time so seeing him actually putting it on and picking things up and getting used to it, it's been amazing.
"It works by picking up sensors in the muscles in Cameron's arm movements so one side of his arm opens the hand and the other side closes the hand."
Cameron's bionic hand is the first to be medically-approved in Europe and the US, and was developed by Bristol-based company Open Bionics.