US Air Force plane lands at Prestwick Airport after emergency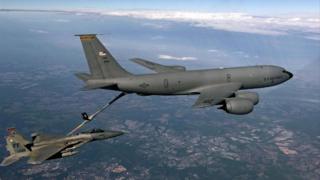 A US Air Force refuelling jet has landed at Glasgow Prestwick Airport after declaring an emergency over the Atlantic Ocean.
The Boeing KC-135 was at a height of about 25,000ft over the Isle of Mull when it broadcast an emergency code at about 08:00.
The aircraft, which is used to refuel other planes in mid-air, landed safely a short time later.
The jet had been diverted after its pilots reported technical issues.
A Prestwick Airport spokeswoman said: "The aircraft landed safely with no further issues."