Grave of Greyfriars Bobby's master is vandalised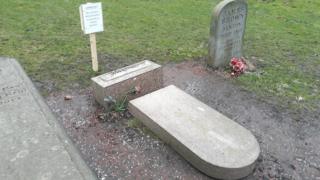 Vandals have toppled over the gravestone of Greyfriars Bobby's master John Gray, just days before a memorial ceremony to honour the faithful dog.
The gravestone in Greyfriars Kirkyard, Edinburgh, was knocked over at the weekend.
City of Edinburgh Council said it would not be able to carry out repairs in time for Sunday's ceremony marking the 146th anniversary of Bobby's death.
The legend of Greyfriars Bobby dates back to the late 19th Century.
The Skye terrier is said to have kept a constant guard over the grave of its owner John Gray, also known as Auld Jock, in Greyfriars Kirkyard for 14 years.
Bobby's period of mourning reputedly lasted until his own death in 1872.
Steve Lister, Greyfriars Kirk operations manager, told the BBC Scotland news website he was disappointed by the vandalism.
He said: "I am very sad about it, its very unfortunate. Vandalism happens up and down the country, but it's a pity it has come to something like this.
"For vandals to target a tourist attraction which depicts a harmless story is very disappointing."
A spokeswoman for City of Edinburgh Council, which owns the cemetery, said: "Following an inspection earlier this week by our structural engineers, the headstone has been made safe.
"We intend to re-erect it next week following the installation of new foundations. In the meantime signage will be put up to advise the public of these plans."