Glasgow-Edinburgh railway line disruption continues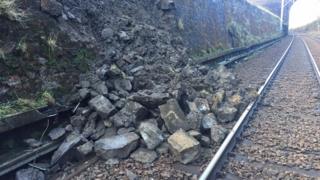 ScotRail has warned travellers on the main line between Glasgow and Edinburgh to "expect disruption to continue for the rest of the day".
It said work continued at Winchburgh in West Lothian to restore the line following a landslip.
Rail travellers have been experiencing a second day of disruption following the closure.
ScotRail said it would only re-open the section between Linlithgow and Edinburgh "when it is safe to do so".
The company's chief operating officer Angus Thom said: "The engineers are on site at the moment.
"They are giving us regular updates on how that's going.
"It's a complicated job and the important thing is, as we do return (the line to service) it's done safely."
Heavy rain
Mr Thom added that updates would be shared with customers through the ScotRail website and social media.
He said it would be possible to give a clearer idea of the timescale for the repairs later on Thursday.
Mud and rocks fell onto the line at Winchburgh at midday on Wednesday as heavy rain and winds battered Scotland.
Replacement buses will run between Linlithgow and Edinburgh Park until the line reopens.
Trains travelling to Edinburgh from Dunblane have also been cancelled and have been replaced by buses.
Engineers from Network Rail worked through the night to assess the damage and make repairs.
ScotRail urged Glasgow-Edinburgh passengers to travel via Queen St Low Level/Bathgate, or via Glasgow Central/Shotts or Carstairs.
Highland line
Following another landslip, NetworkRail Scotland has said it could soon be possible to move a train that was derailed on the West Highland Line.
Five passengers were on board when the train came off the track early on Monday morning. No-one was injured.
The line is blocked at Loch Eilt between Arisaig and Glenfinnan and the ScotRail Alliance has said Fort William-Mallaig services will be suspended until further notice.
Engineers from NetworkRail Scotland are clearing tonnes of material to free the train and clear the line.