Care home paedophile convicted 10 years after release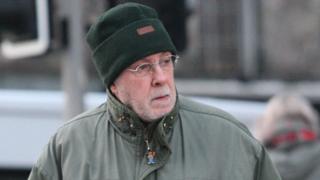 A paedophile who was jailed for preying on children in care homes has been sent to prison again after two more victims came forward.
Gordon Knott was one of the first male house parents to be employed to look after the disadvantaged and vulnerable in Edinburgh children's homes.
But in 1997 he was jailed for 16 years after he was convicted of a series of sexual offences spanning two decades.
Knott, who was released in 2008, will be sentenced next month.
A jury at the High Court in Edinburgh found the 64-year-old guilty of three charges of indecency against the two victims.
The crimes were committed at Clerwood, on Arthur's Seat and at an address in the Liberton area between 1973 and 1981.
'I was crying'
The abuse of one boy began when he was five.
He told the court that on one occasion Knott had taken him to Arthur's Seat on the back of his motorbike.
After parking the bike Knott sat on the grass and pulled the boy close before abusing him.
The victim told the court: "If I had a gun I would have shot him. I would have done anything to get away from him."
He added: "I was crying at the same time but it didn't stop him."
Afterwards Knott drove the boy back to the care home.
The man, now 49, said that Knott had also molested him at Clerwood by touching him inappropriately while showing him a wrestling hold.
He told the court Knott always appeared to be nice to everyone but said: "He just seemed like a really nice person at the time if you didn't know him deep down."
Wrestling sessions
The second victim, also 49, was also abused from about the age of five and said he left care as a teenager.
He said: "Once I was old enough I just left, got away from Edinburgh, got away from Scotland."
The man, who now lives in Ireland, said he had absconded from the Clerwood home.
He was asked by advocate depute Alan Cameron why he had run away and replied: "At the time I didn't know. I know now I was trying to get away from the abuse."
He told the court Knott also targeted him during regular weekend wrestling sessions.
Knott's latest trial was initially halted and then resumed with a new jury after one victim said at the end of his evidence: "I hope you get convicted again."
The paedophile, of Carstairs, South Lanarkshire, had denied the latest offences.
He was denied bail.
In 1997 Knott was jailed for 10 sexual offences against eight boys and a girl in Clerwood and Glenallan children's home in the 1970s and 1980s.