Police officer discharged gun accidentally in Edinburgh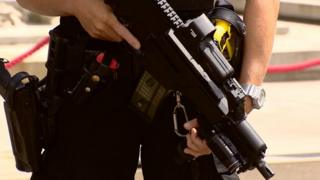 An officer who discharged a gun in Edinburgh police headquarters will not be investigated after it was deemed to be an accident.
It happened in the armoury area of Fettes police station on 28 January.
The police watchdog said it had been "correctly pointed into a device intended to ensure no risk would occur" were the gun to be fired unintentionally.
A review found there was no damage and no risk to anyone.
A Police Investigations & Review Commissioner (Pirc) spokesman said: "All incidents of Police Scotland's use of firearms, including where an unintentional discharge of a firearm occurs, must be notified to the Police Investigations and Review Commissioner.
"After reviewing the circumstances it is decided whether or not to progress to an investigation.
"In this instance, an unintentional discharge of the firearm happened when the weapon was being unloaded.
"The firearm was correctly being pointed into a device (a weapon clearing tube) intended to ensure that no risk would occur were the gun to be fired unintentionally.
"After reviewing this incident it was decided that an investigation was not required as no injury or damage occurred and there was no risk identified to any person."
A Police Scotland spokesman said: "Following an accidental discharge of a firearm within the armoury area of Fettes Police Station on Sunday 28th January, a referral was made to Pirc.
"No-one was injured during this incident."