Dormant bank account cash for charities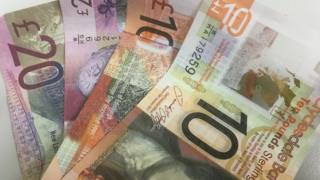 Almost £1m left in dormant bank and building society accounts will be shared between good causes in Scotland.
A total of 23 projects will receive a share of £957,526 found in accounts that have not been used for at least 15 years.
Among the beneficiaries are Generation Arts Association, which hopes to use a grant of £11,928 to unite two dance troupes from Livingston.
It will bring together young and older dancers for a performance in October.
"A Fizzy Vintage" will bring together a group of teenage dancers known as "Fizzy", and a new company of dancers aged 60 to 77, called "Vintage".
They plan to create and perform a dance piece at Luminate Arts festival in Livingston.
'Hopes and aspirations'
Joanne Brown, the co-ordinator at Generation Arts Association, said: "We are absolutely thrilled with this award.
"Intergenerational work has been a passion of ours for a long time but resources don't often allow for a project of this scope.
"Importantly for us behind the scenes, this award will also galvanise Vintage and help to raise their profile.
"Vintage are on the hunt for more members as they're still newly formed, so its a great time for any older dancers out there to come along and get back to dancing."
The Big Lottery Fund were instructed to distribute dormant accounts for the benefit of Scotland's voluntary and community sector, by the Scottish government in September 2011.
Maureen McGinn, the chairwoman of the Big Lottery Fund Scotland, said: "This funding will allow thousands of young Scots to pursue their hopes and aspirations while also building skills and confidence for the future.
"I am delighted that Generation Arts Association will benefit as part of this investment, allowing young people to explore their passion for dance and performance, while making new connections with older people in their communities."