Inmate jailed after writing to witnesses from prison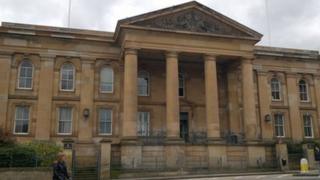 An inmate wrote letters to witnesses due to give evidence against him in a bid to avoid jail.
Darryl McColl would have faced up to a year in prison if he had been convicted of driving while disqualified.
While on remand at HMP Perth he wrote letters to two witnesses in St Monans, Fife, informing them they need not turn up at his trial to give evidence.
But they alerted police and when he returned to the dock he was sentenced to 18 months.
McColl stood trial over the original motoring charge, but was acquitted despite the eyewitnesses turning up.
However, Sheriff Alastair Carmichael jailed him for 18 months for attempting to pervert the course of justice, saying his actions struck "right at the heart of justice".
Fiscal depute Charmaine Gilmartin told Dundee Sheriff Court: "The letter was analysed for fingerprints and his were found on it."
The witnesses received citations to give evidence for the Crown on 18 November, 2016.
Ms Gilmartin added: "They were said to have observed him driving and were crucial witnesses.
"They received these letters and were not convinced it was genuine and reported it to police."
'Completely naive'
McColl, 30, a prisoner at HMP Perth, pleaded guilty on indictment to attempting to pervert the course of justice while on bail between 20 October and 16 November, 2016.
Defence solicitor Steven Gleeson told the court it was a "completely naive attempt at this offence" and said the women had realised immediately the letters were not from the procurator fiscal's office.
He said McColl accepted it was a serious matter but that his actions were made all the more senseless because the case he was charged with had proceeded to trial and he was acquitted.
Sheriff Alastair Carmichael told McColl he had no alternative but to impose a custodial sentence.
He said: "This may be a naive attempt but nevertheless it was an attempt to stop witnesses giving evidence at court which strikes right at the heart of justice."