Why I want to be adopted at the age of 27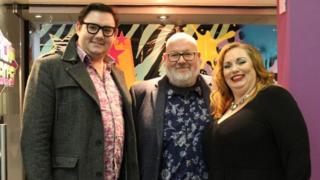 A grown-up stepson is attempting to change the law so that he can be legally adopted by his stepfather.
Nathan Sparling, 27, wants a reform of Scottish family law to allow adults to be adopted.
In the UK, adoptions only happen up to the age of 18.
But Nathan says many young people do not realise this is the case before it is too late.
Nathan met Brian Sparling when he was 13 and struck up a good relationship straight away.
'Father and son bond'
He told BBC Scotland's Kaye Adams Programme: "From the second or third time I met him I was going along to the football with him.
"I became a season ticket holder at Dunfermline and really just enjoyed spending time with him.
"He married my mum when I was 16 and I feel like we have had the bond of father and son for 14 years.
"I'll never call another man dad".
Nathan looked into becoming legally adopted in his late teens, but because he was over 18, he discovered he would not be able to do it.
But then his twin brothers arrived.
The boys - now aged four - made him think about it again.
He said: "Having never grown up with a father and then having a man come into my life who treated me as his own, I was brought into the family very much as a son, and a grandson, that has led me to know the love of another parent.
"I felt like now I want to be able to formalise that as he is now the father of my two baby brothers as well. They are four years old, and it's great to play a part in their life growing up."
Stepfather Brian recently surprised the family by getting his first tattoo - with the dates of birth of his four children - Nathan and his sister Amy, and the twins.
It affected Nathan greatly: "That really jolted my heart, to think that two of those are his step kids.
"He really values us as his own and now I want to formalise that."
'As important as same-sex marriage'
Many other countries allow adoption at any point in life.
Nathan, who works for a charity in Edinburgh, has written to MSPs asking for help to overhaul the legal system to allow the adoption of adults.
He says the amendment might be as simple as changing just six words on the current Adoption & Children Act (Scotland) 2007.
He says it is about more than just a piece of paper to him: "I think it is the same reason why people campaign for same sex marriage.
"It's about the legal recognition of a relationship. I don't have a father's name on my birth certificate.
"I want it to be seen in the eyes of the law that he is my dad.
"I don't want to introduce him as my 'step dad' any more."
A Scottish government spokesman said: "We are improving the procedures, services and support around adoption and permanence to ensure that Scotland has a modern, responsive and child-centred adoption system.
"We will look into what is being proposed."
Adult adoption - why?
Nathan Sparling wants to be adopted to recognise the man he was brought up by as his father.
But there are other reasons for wanting this change to the law:
The transfer of inheritance rights
Restoring an original relationship between adult adoptees and their biological family
Formalising the relationship of a stepchild and their step parent.
In Japan, adoption of adults is used as a way to make sure family businesses survive when there are no heirs to take over.