Council buys former Cockenzie Power Station site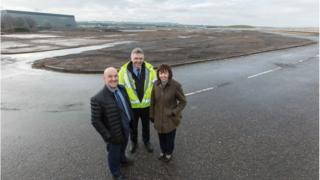 East Lothian Council has bought the former Cockenzie Power Station site.
Cockenzie, which generated 150 terawatt hours of electricity in its lifetime, was decommissioned in March 2013.
Its towers had been a landmark in the area for almost 50 years until they were demolished in September 2015.
The local authority said it had yet to decide what to do with the space but added it would listen to local public opinion to use the 230 acre site to create jobs for the area.
Depute council leader Norman Hampshire said: "This is a key site of huge importance to the economic future of East Lothian and for the communities that surround it. I am delighted at this outcome.
"The council has been actively involved in discussions around the future of the site for a number of years now, since it became clear that Cockenzie Power Station was to be decommissioned and that plans for a gas-fired station would not be going ahead.
"Now that the future ownership of the site is clear, the council can move forward with marketing the site for commercial opportunities, which will form a key part of the planned economic growth within East Lothian.
"It is important to stress at this stage that community consultation will remain a key element of how we move forward and bring about more developed plans for what the site will be used for in the coming years."
Lee Warren, head of thermal generation at ScottishPower, said: "ScottishPower is pleased to have completed the sale of the former Cockenzie power station site after several months of positive discussions with East Lothian Council.
"ScottishPower will work closely with East Lothian Council to ensure arrangements are finalised for the ongoing maintenance and management of the assets it continues to be responsible for associated with the Musselburgh Lagoons."