Directors hint Edinburgh could host Avengers: Infinity War premiere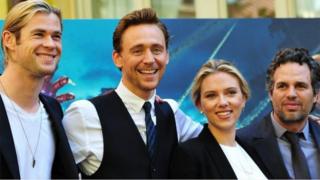 The directors of Avengers: Infinity War have hinted that Edinburgh could host a premiere for the forthcoming Marvel blockbuster.
The Russo Brothers tweeted that the city should "get ready" after actor Dave Bautista backed an online bid to unveil the film in the capital.
He and fellow star Karen Gillan shared the link to a petition by Stirling based fan Mae Trumata.
Scenes in the film were shot in Edinburgh over six weeks last year.
Mr Bautista, who plays Guardians of the Galaxy character Drax in the film, signed the Change.org petition and tweeted: "I'm down to go to Edinburgh!"
'Iconic location'
The Russo Brothers then tweeted: "Let's do it, Dave. We're on it. Get ready Edinburgh."
During filming last year, Joe Russo said they had "jumped at the chance" to use Edinburgh as a location.
"The city is such a unique and iconic location, but one never seen as the backdrop for a big action film," he said.
Rosie Ellison, manager of the Film Edinburgh commission, said: "We were very proud to host the T2 Trainspotting world premiere last year and were equally proud to be chosen as the only location in the world outside of the studio for Avengers: Infinity War.
"We'd be delighted to welcome the filmmakers back to Edinburgh to launch the film here, in the city of superheroes."