Edinburgh Tram Inquiry: Tie boss 'signed up to poor deal'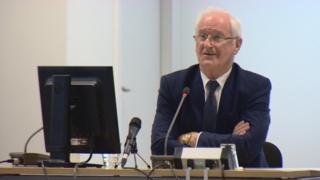 The man brought in to salvage Edinburgh's tram project has told an inquiry he signed up to a poor deal.
Vic Emery was drafted in as chairman of the tram delivery company Tie in February 2011.
He said no-one thought the revised price was good value but he had to get an agreement to get the trams done.
The current inquiry is examining why the project went significantly over-budget and was delivered years later than planned.
The eventual £776m bill was more than double the sum earmarked at the outset.
Mr Emery, who had a background in ship building and was used to handling complex multi-billion pound contracts, was involved in the mediation process to try and break the stalemate between contractors and client after months of disputes and controversy over the trams.
Giving evidence to the inquiry, he said the tram project contract was very weak.
"When Infraco put their price on the table we could gone 'God, you must be joking we are out of here'," he said.
"But there was no desire to do that, the desire was we need to go back and make another offer."
Mr Emery said he had little room for negotiation or leverage with the consortium of contractors involved. He said there were three options on the table when the mediation took place - to cancel the whole project, to find a new builder or to work out a way forward with the existing contractors.
He told the inquiry he over ruled experts in Tie who had expressed concern at the outrageously high costs but he denied being put under political pressure or coerced into accepting the deal finally thrashed out at mediation. He likened it to horse trading.
He said: "The team thought it was not good value. But on the basis that we wanted a continuance of the project and we wanted to get to a resolution, a number was agreed. I don't think anyone thought it was good value."
Meanwhile, Edinburgh council has announced shortlisted bidders for plans to revive the tram route from the city centre to the Forth which is currently out to public consultation.
From Monday the public is being asked to submit its views on this proposal over the next five weeks and if the scheme is approved the contract could be signed later this year with trams possibly running on that route in 2022.