Pupils kept inside as wind damages Oxgangs Primary School's roof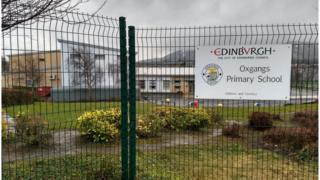 Staff and pupils at an Edinburgh primary school where a wall collapsed two years ago were ordered to stay indoors after wind damaged the roof.
Oxgangs Primary is the same school where nine tonnes of masonry fell from a wall in 2016 prompting a Scotland-wide review of building projects.
A section of flashing on the school's roof was found to be loose earlier and flapping in the wind.
Council officials said the roof has now been made safe.
A City of Edinburgh Council spokesman said: "Officers from the Council and our PPP provider attended on site immediately and it was made safe.
"The health and safety of our pupils and staff is of paramount importance."
Several Edinburgh schools were previously forced to close and undergo remedial work amid concerns about the quality of construction in the wake of the 2016 wall collapse at Oxgangs.
A subsequent review by architect Prof John Cole found that it was just "a matter of timing and luck" that no children were killed or injured at Oxgangs.