New CCTV image of missing student Duncan Sim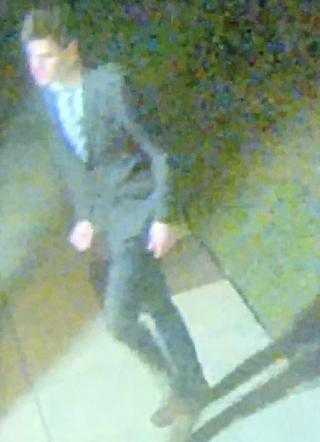 Police have released a new CCTV image of a student who disappeared in St Andrews more than a fortnight ago.
Duncan Sim, 19, went missing after leaving the Madras Rugby Club at about 23:15 on 14 March.
Officers now believe he was in the St Andrews Links area a short time later. Footage revealed he was outside Pilmour Clubhouse, near Eden Golf Course.
Searches by police and volunteers have failed to shed any light on the first year chemistry student's disappearance.
Duncan is described as white, 6ft tall and of medium build, with green eyes and brown hair.
Insp Karen Muirhead of Fife's Police Division said: "We are committed to our search for Duncan and information now obtained from CCTV enquiries supports him being in the area near to the Eden Course shortly after he left Madras Rugby Club.
"He appears to be alone but it is unclear what direction he left this area in.
"I would again appeal to the public to think back to Wednesday 14 March and consider if they saw Duncan, or a man matching his description in the area.
"We hope that this image jogs someone's memory and can give us that vital piece of information that we need in order to trace him.
"It has now been two-weeks since Duncan was last seen and we remain extremely concerned for his welfare. We continue to keep Duncan's family updated with our enquiries and any developments."