Edinburgh scientists working to create safer eggs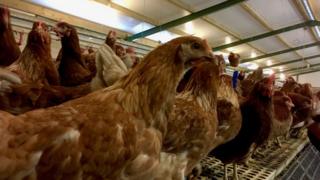 Scientists at the University of Edinburgh's Roslin Institute are carrying out work to produce safer eggs.
They hope to be able to breed chickens which lay eggs more resistant to the spread of bacterial disease.
Their work has focused on the outer layer of the shell, the cuticle, which protects eggs from bacteria.
The scientist leading the project said the work could lead to a reduced use of antibiotics in poultry farming.
Dr Ian Dunn said: "Eating eggs is safer than ever in the UK. Our research is focused on reducing contamination risks even further by breeding hens that produce higher quality eggs.
"This could help to reduce the need for antibiotics in poultry production and will bring huge welfare benefits for the birds themselves."
The research has looked at why some eggs are more susceptible to diseases such as E. coli than others.
It is concentrating on the risk of disease being passed on to the chicks which hatch from these eggs.
The scientists said contaminated eggs can cause food poisoning in people so efforts to reduce the risk are vital.