Call to ban tourist buses from Edinburgh's Old Town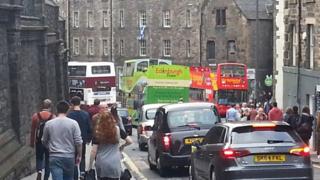 A community council has called for a ban on tourist buses and lorries in Edinburgh's Old Town, claiming they are turning the area into a "mess".
Edinburgh Old Town Community Council says a ban on large vehicles in the area would bring the city into line with other World Heritage Sites.
The group has written a report on the "absolute chaos" in the historic area.
And it questioned whether it was necessary to "sacrifice everything" to attract more tourists to the capital.
The report says: "We are perpetually told that it is necessary to sacrifice everything, including our architectural integrity, to attract ever more tourists to our city and that this is necessary because they bring vast amounts of money into the city.
"Meanwhile we are told the city cannot afford to undertake basic maintenance let alone upgrade anything."
Bill Cowan, the community council's planning and transport secretary, told BBC Scotland that tour buses and lorries were clogging up the Grassmarket and surrounding areas.
He said: "The tour buses sit idling at the bus stop in the Grassmarket, which holds up the traffic, even in rush hour.
"There is also a solid procession of them, often with not a soul on board, and coaches park anywhere while there are about five or six different waste disposal companies that come up and down with enormous lorries.
"There needs to be a ban on large vehicles like there is in most World Heritage sites across the world."
He added that in cities such as Barcelona buses are not allowed to drive through the World Heritage Site, so tourists are dropped off and have to walk to their hotels.
Adam McVey, leader of the City of Edinburgh Council, said the community council's report raised "important questions" around traffic flow and street furniture.
He added: "We're already spending a lot of time with public transport operators like Lothian Buses to look at how their routes across the city centre work.
"It is very encouraging that we are receiving such detailed feedback from the community, and we are committed to engaging with other partners, businesses, residents and everyone else who has an interest in the city centre to ensure the city continues to benefit those who live and work here, those who need to travel in the city, and those who want to visit."
One of the operators of tour buses in the city has defended their operation.
A spokesman for Edinburgh Bus tours said: "Tourism is a vital part of the economy of our city and Edinburgh Bus Tours - as Scotland's second most popular paid-for attraction - carried almost 700,000 visitors last year contributing significantly to both the local and wider Scottish economy in supporting jobs, investment and economic growth.
"As such, we are fully aware of the responsibility we share to protect the environment we operate in - especially areas like the Old Town which makes the city such an important visitor destination.
"In a UK first we invested £6.5 million into a brand new fleet of Euro 6 standard vehicles in 2016, which are the cleanest diesel buses on the market."