Slaughterhouse uncovered in Edinburgh city centre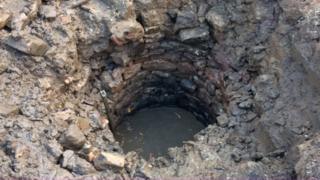 Archaeologists have found evidence of a slaughterhouse and well dating back to the 19th Century at a city centre site in Edinburgh.
They were uncovered during demolition work for a multi-million pound complex in King Stables Road, at the site of the former Silk Nightclub.
The site is on the edge of the city walls as the sale of animals was forbidden inside the walls at the time.
A hotel, student housing and private homes are planned for the site.
The slaughterhouse will now be preserved and covered over before building work begins.
Bruce Glendinning, archaeologist at CFA Archaeology, which is carrying out work on the site for developer Bowmer and Kirkland, told the BBC Scotland news website: "This is an interesting find because map evidence only tells us so much, which gives us a broad idea but no detail of what has been there.
"Now this gives flesh to the bones of what we already know. It tells us how it looked inside with cobbled floors and the different floors and how the drains worked so they could sluice the blood away.
"It tells us what they were doing and how they were doing it.
"The well will now be preserved by being filled and capped."
Alan Hall, project manager for Bowmer and Kirkland, said: "The building has been designed so it won't disturb these historical buildings underneath."