Synchronised swimming film to close Edinburgh International Film Festival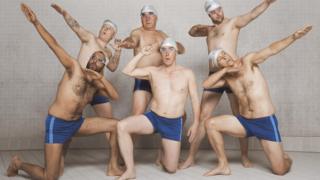 A British comedy about synchronised swimmers is to close this year's Edinburgh International Film Festival.
Swimming With Men, starring Rob Brydon, Jim Carter, Rupert Graves and Jane Horrocks, will be the final film of the festival on Sunday 1 July.
It follows the story of accountant Eric (Brydon) who joins an all-male group of synchronised swimmers as he seeks to win back his wife.
The 72nd edition of the EIFF runs from June 20.
The film's director Oliver Parker said: "It's such an honour and a real pleasure to be having our UK premiere as the closing film at Edinburgh International Film Festival.
"I can't think of a better place for our intrepid swimmers to take the plunge."
Mark Adams, artistic director of EIFF said: "Swimming With Men is a classic British comedy delight packed with a series of quite wonderful performances.
"It is the perfect film to wrap up a festival that prides itself on celebrating all that is great about British filmmaking."
Earlier this week organisers announced that Puzzle, starring Kelly Macdonald, will open the festival in June.