Street advertising boards to be banned in Edinburgh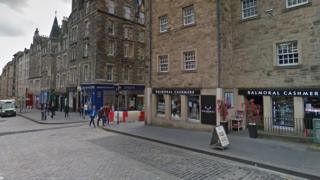 All on-street advertising boards will be banned from Edinburgh by the Autumn after councillors agreed to remove the "obstacles".
Members of the city council's transport and environment committee unanimously agreed to a city-wide ban on the street clutter as an "equalities issue".
The committee heard from its equalities champion, Derek Howie, who spoke about his experience with his guide dog.
An army of enforcement officers will make sure the ban is not flouted.
There could be potential to issue fixed penalties to those who do not adhere to the ban.
Officers have received complaints in the city centre, but also areas including Portobello and Gorgie.
Mr Howie said: "Edinburgh is a busy capital city, it's thriving, it's booming. We have many people wanting to come and live in Edinburgh - that means a lot of people in a finite amount of space.
"We are facing a situation where the streets are immensely crowded. We have to be inclusive. It's not a city just for the fit and able, it's a city for everyone.
"If we don't improve the situation, we will be excluding people from the city centre."
Impact on business
The committee also heard from Justin Davis from Edinburgh Pub Crawl, who asked for the effect of a ban on businesses and, in particular, walking tours, to be considered.
He said: "Whilst we recognise the city wants to remove all the temporary advertising, we want to consider that you are absolutely sure when it happens, it does not harm businesses.
"We have been doing walking tours for about eight years and have always had some kind of signage on the Royal Mile. Without a signage board of any kind, we miss out on that market entirely."
Convener of the Transport and Environment Committee, Cllr Lesley Macinnes, said: "It's absolutely clear that we are very aware of the potential impact on business and we are very aware of the need for mitigation.
"We should not, however, forget the purpose is an equalities issue".
Blindness charity RNIB Scotland has welcomed the decision.
The charity's chairwoman Sandra Wilson, who is herself blind, said: "While we want businesses to prosper, our streets should not be an obstacle course to be negotiated.
"A third of blind and partially-sighted people surveyed by RNIB said they had been injured by pavement clutter when walking outside. Some felt so intimidated they ended up staying isolated in their homes. This is surely unacceptable.
"I lived in Edinburgh for many years and found it an easy city to get around, despite having no sight. Today it's a different story. I visit frequently but don't walk around much because of street clutter."