Apology issued after flaring at Mossmorran chemical plant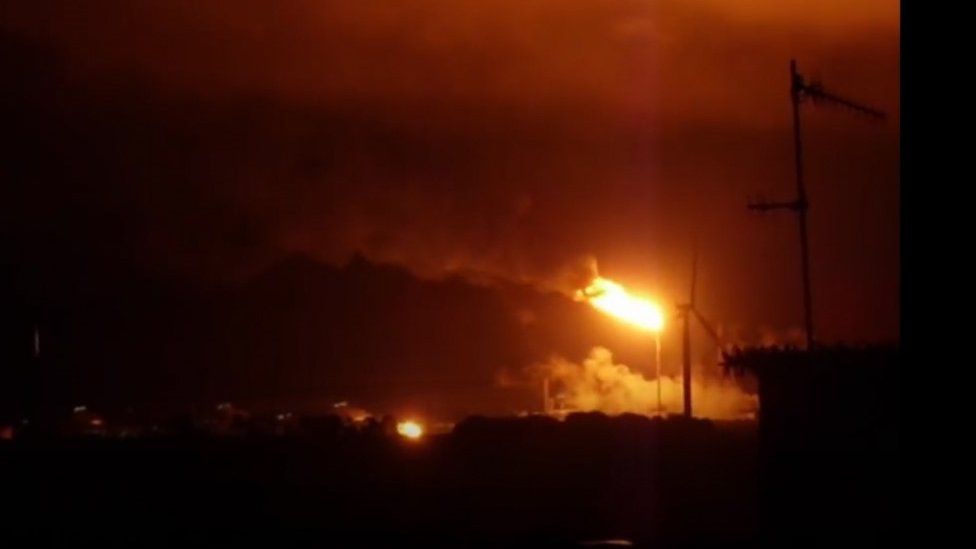 The operators of a chemical plant in Fife have issued an apology after local communities complained of being disturbed by flaring.
ExxonMobil said flaring at Mossmorran was necessary because of a mechanical issue with a pump.
But it was unable to "predict precisely when in the next few days" it would return to normal operations.
The Scottish Environment Protection Agency (Sepa) said it was monitoring air quality and noise locally.
Local people reported seeing bright flares and feeling ground vibrations.
Seven fire engines were at the site near Cowdenbeath as a precaution for three hours on Saturday night.
In a statement, ExxonMobil said the flare was essential to the site's safety systems and there was no danger to local communities or employees.
The firm added that it was working closely with Sepa to resolve the issue.
"We apologise once more to local communities for any disturbance and are in contact with local agencies and community groups to ensure local residents are kept informed," it said.
Plant manager Sonia Bingham added: "We are working round the clock with our specialist suppliers to install the replacement pump and restore normal operations.
"It is not possible to predict precisely at this stage when in the next few days we will return to normal operations, but we are doing everything we can to do this as soon as possible, while at the same time minimising the size of the flare and any resulting disturbance to the community."
It comes a month after Sepa issued final warning notices following a serious flaring incident at Mossmorran last summer.
In a statement following the latest flaring incident the agency stated that ExxonMobil was permitted to flare for safety purposes but it was obliged to minimise community disturbance and pollution.
It said Sepa had mobilised a "full response" after being informed that flaring was required on Saturday.
The statement continued: "The response includes both air quality and noise monitoring to assess the local impacts.
"Sepa experts are in the local area and have started to capture air quality samples.
"The air quality data will be subject to further analysis but early indications show that levels are consistent with our expectations.
"We are clear that environmental compliance is non-negotiable and both the air quality and noise monitoring Sepa staff is undertaking is to assess the impact of flaring.
"Whilst currently restricted in what we are able to communicate at this time, to avoid any prejudice to any potential enforcement action, our officers will continue to engage with operators and attend the local community. "
James Glen, chairman of the Mossmorran Action Group, said: "Easy apologies from ExxonMobil bring no comfort to residents suffering the fear and stress created by yet another emergency flaring period when the operators are under a final warning and are still under investigation for two other emergencies in the last year.
"As usual, no-one appears to know how long the flaring will last, and the operators and regulators are tight-lipped about the causes and extent of the emergency.
"After SEPA blamed a previous recent emergency flaring on negligence by ExxonMobil, we want to know the full extent of the current 'equipment failure', what exactly was leaked, how the spillage is being treated and what risks it has presented to emergency workers and local residents."
Related Internet Links
The BBC is not responsible for the content of external sites.