Mossmorran chemical plant flaring to continue for two more days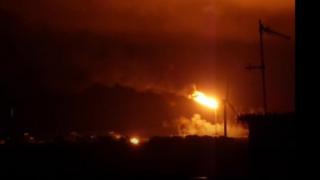 The operators of the Mossmorran chemical plant in Fife have said they expect flaring to continue for at least another two days.
The flare began burning on Saturday after a pump failure.
Local residents have complained of increased noise and vibrations. The regulator Sepa has already issued a final warning to ExxonMobil because of a similar incident last year.
The company has apologised to people living nearby.
Seven fire engines were at the site near Cowdenbeath as a precaution for three hours on Saturday night.
In its latest update, ExxonMobil said work was continuing "around the clock" to restore normal operations as soon as possible, while minimising disturbance to local communities.
Sonia Bingham, ExxonMobil Chemical Limited FEP plant manager, said "good progress" was being made.
She added: "The failed pump is being repaired utilising the available spares needed and we will then commence the commissioning of the pump into operation."
The company said that, providing there were no complications, it expected to resume normal operations within two days.
It added: "We are working closely with Sepa (Scottish Environment Protection Agency) as we resolve the issue. We apologise to local communities for any disturbance and are in contact with local agencies and community groups to ensure local residents are kept informed."
The latest incident at the weekend came a month after Sepa issued final warning notices following a serious flaring incident at Mossmorran last summer.
The agency said at the weekend that it had mobilised a "full response" after being informed that flaring was required on Saturday.
A statement added: "The response includes both air quality and noise monitoring to assess the local impacts.
"Sepa experts are in the local area and have started to capture air quality samples.
"The air quality data will be subject to further analysis but early indications show that levels are consistent with our expectations.
"We are clear that environmental compliance is non-negotiable and both the air quality and noise monitoring Sepa staff is undertaking is to assess the impact of flaring."
Local residents have demanded more information about why the flaring is necessary.
James Glen, chairman of the Mossmorran Action Group, said: "Easy apologies from ExxonMobil bring no comfort to residents suffering the fear and stress created by yet another emergency flaring period when the operators are under a final warning and are still under investigation for two other emergencies in the last year."