Michelle Obama to speak at charity dinner in Edinburgh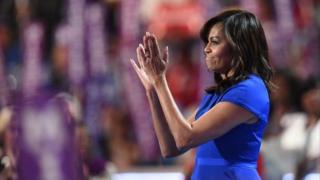 Former first lady Michelle Obama is to speak about her time in the White House at a fundraising dinner in Edinburgh.
Mrs Obama, who was the first African American first lady, will follow in the footsteps of her husband Barack when she addresses a charity dinner organised by the Hunter Foundation.
About 1,200 people attended when President Obama made his first trip to Scotland in 2017.
Michelle Obama will be at the EICC on 17 July.
The cash raised from the event will be invested in charities across Scotland, the Hunter Foundation pledged.
Its founder, businessman Sir Tom Hunter, said it would be "more than an honour" to welcome Mrs Obama to Scotland.
He said: "From a brick bungalow on the south side of Chicago to the White House has been an epic, historic journey and we look forward to hearing about that journey and Mrs Obama's future path.
"It is more than an honour to welcome first lady Michelle Obama, following so closely on from the 44th president's visit of last year and we are delighted she accepted our invitation."
In her eight years in the White House, Mrs Obama worked to transform the role of first lady and become a role model and champion for women's rights.
The Harvard law graduate led initiatives aimed at tackling childhood obesity and together with Jill Biden, wife of former vice president Joe Biden, worked to improve life for servicemen and women and veterans.
Her Reach Higher programme also aimed to inspire young people in the US to continue education after high school by going to college or university as well as campaigning for girls across the world to attend school.