Man dies in fire after driver in stolen car causes crash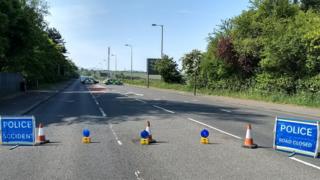 A man has died after his car caught fire following a crash caused by the driver of a stolen vehicle in Edinburgh.
The victim was at the wheel of a Peugeot 206 which was struck by another car as it swerved to avoid the stolen Audi A3.
The man's body was discovered after the blaze was put out by fire crews.
The driver of the stolen car sped off after the smash which happened on the A902 at Maybury Road at about 00:30.
Police said a 25-year-old man, a 22-year-old woman and five-year-old girl were travelling in a BMW which collided with the dead driver's car.
They were taken to the Royal Infirmary of Edinburgh where they are being treated for their injuries.
The grey Audi A3 was believed to be travelling "in convoy" with a silver hatchback.
The Audi, which had been stolen from the Liberton area of Edinburgh on 17 April, was later found abandoned in Lochgelly Road in Cowdenbeath just before 04:00.
Officers have appealed for help in tracing the driver and any other occupants of the car, as well as those in the silver hatchback.
Det Ch Insp Paul Grainger, of Police Scotland, said they believe they know the identity of the man who died in the Peugeot and are supporting his family.
He said: "At this time we believe the stolen Audi A3 has been driven in a dangerous and reckless manner, which has caused this collision to take place in which a person has died.
"Those within this vehicle have then failed to stop and it appears they have thereafter travelled into Fife.
"We have dedicated significant resources to this inquiry and while we have now recovered the Audi, the driver and anyone else within the car are yet to be traced.
"As part of this investigation we are keen to know if anyone has seen the stolen Audi A3 being driven in unusual or suspicious circumstances in Edinburgh or elsewhere since 17 April 2018."
He said the Peugeot driver and the family in the BMW had been driving appropriately - it was the Audi A3 that was being recklessly driven.
Det Ch Insp Grainger added: "We are also keen to trace the occupants of a silver hatchback car, which is believed to have been travelling in convoy with the Audi and is also believed to have headed into Fife.
"I would ask that anyone who can help us trace these individuals to contact police immediately."
Following the crash, the road was closed between Barnton Interchange and Maybury Drive roundabout. Officers said the route was likely to remain shut while investigation work took place.
Drivers on what is one of the city's main commuter routes from the west, were warned to expect delays, while those heading to the city's airport have been told to plan extra time for their journey.