Flight noise monitors installed in the Lothians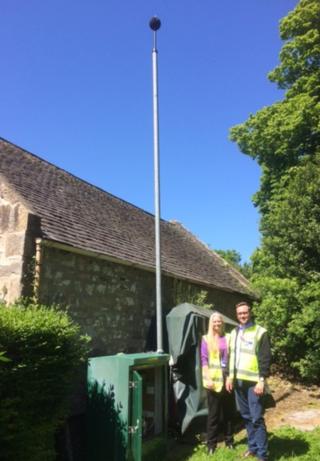 A new state of the art system which monitors noise levels, altitude of flights, aircraft types and destinations has been installed in Edinburgh and the Lothians.
The data can then be viewed online. Three noise monitors have been built in Cramond, Livingston and Broxburn.
The information is online within minutes, with five years' worth of data being transferred into the system.
There is also a complaints section on the Edinburgh Airport website.
The website will allow users to draw up their own noise reports and contains information on the airport's noise insulation scheme as well as a complaints section for people to raise their concerns.
Gordon Dewar, chief executive of Edinburgh Airport said: "We appreciate that aircraft noise can cause issues for our neighbouring communities and we are mindful of the potential impacts it can have and how to best mitigate them.
"We want communities to be informed and to better understand noise and through that will come greater trust and a better working relationship.
"This system will help us with that as it provides increased transparency around our operations, offering up-to-the-minute information on flights.
"Providing this information allows people to draw up their own reports and evaluate the data for themselves before asking us questions.
"We're confident this system will prove to be extremely useful and is another example of the innovative approach that we take at Edinburgh Airport."