Widow calls for inquiry into chlorine tablet death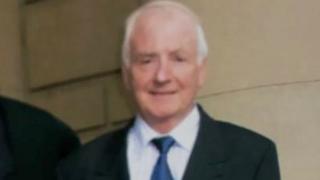 The widow of a man with Alzheimer's who died after eating chlorine tablets he found in his nursing home has called for a fatal accident inquiry.
James McConnell, 72, was a resident at Lomond Court care home in Glenrothes when he died in August 2015, a week after eating the disinfectant tablets.
His widow Wilma McConnell, who is now suing the care home, said she wanted answers over her husband's death.
The care home said it was establishing "exactly what took place".
'Ulcerated mouth'
Mrs McConnell, 73, from Glenrothes, told BBC Scotland she still had "flashbacks" to when her husband was in hospital after eating the tablets.
She said: "I was shocked when I saw him.
"He was a terrible colour and he couldn't eat the porridge I tried to give him as his mouth had started to ulcerate.
"His lips and tongue had turned brown."
Mrs McConnell said the care home had told her a delivery driver, who knew the security code for the main door, had left a package in the hall.
Her husband, who was diagnosed with Alzheimer's in 2012, found and opened the package and ate two of the tablets thinking they were strong mints.
Later he said to his wife: "I'm sorry, I didn't think I had done anything wrong."
Mrs McConnell said: "My husband constantly paced the corridors and he came across the package, the home told me.
"The tablets were the size of a strong mint and he had a sweet tooth so he ate a couple of them."
She said the home was contesting whether the chlorine tablets caused Mr McConnell's death.
The Crown Office said the procurator fiscal had received a report in connection with Mr McConnell's death and were continuing to investigate the case.
However, three years after Mr McConnell's death there has been no decision on whether there will be a Fatal Accident Inquiry or any criminal proceedings.
Mrs McConnell said she was disappointed the Crown Office had not yet authorised an FAI.
Her husband's death certificate said he died from complications of aspiration of pneumonia following ingestion of chlorine tablets, ischemic heart disease, diabetes and Alzheimer's.
Mr McConnell, who had only been living at the home for nine weeks, ingested the chlorine tablets on 4 August. He died on 11 August in Victoria Hospital in Kirkcaldy.
'Learn lessons'
A spokeswoman for HC-One, which owns the care home, said: "Our deepest sympathies are with Mr McConnell's family during this very difficult time.
"Since Mr McConnell's unfortunate death we have been working closely with all relevant authorities to establish exactly what took place so we can learn all lessons from this very sad event.
"As these discussions are ongoing we are unable to comment further at this time."
Alan Calderwood, of Thompsons Solicitors, who is undertaking a civil action on behalf of Mrs McConnell, said: "Under no circumstances should a vulnerable person who is in care have access to potentially lethal substances.
"Mr McConnell's family have waited almost three years and still have no assurance that there are now proper systems in place at these facilities to prevent a similar accident occurring."
A Crown Office spokesman said: "The procurator fiscal has received a report in connection with the death of a 72-year-old man in Victoria Hospital, Kirkcaldy, on 11 August 2015.
"The investigation into the death, under the direction of the Health and Safety Division of COPFS (HSD), is ongoing and the family will be kept updated in relation to any significant developments."